Weather affects Bridgnorth waste collections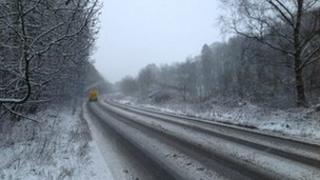 Waste collections have been suspended in part of Shropshire after more snow fell in the county.
Collections were stopped in Bridgnorth where people were still asked to leave bins out, as Shropshire Council said it would collect them as soon as it could.
Shropshire Council tweeted: "If they [waste crews] can't get to you, please leave bins out till collected, but bring in boxes or sacks."
The Met Office said a severe weather warning was still in place.
Telford and Wrekin Council said it "may not be able to collect bins or recycling boxes from some homes."
The Environment Agency has been assessing the risk of flooding when the thaw begins.
Rob Davies, from the agency, said: "There's a system we use to make it more accurate because it's very easy to get the depth of snowfall.
"What we're really interested in is how much water is in the snow itself because most of the snow lying on the ground is mostly air."