Snow and ice disruption eases in Shropshire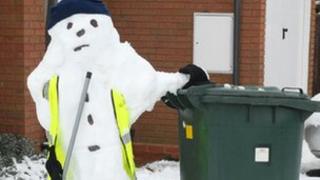 Disruption caused by snow and freezing temperatures has eased in Shropshire, though bin collections remain affected.
More than 60 schools in the county closed after snow at the weekend, but no closures were reported on Tuesday.
A Telford and Wrekin Council spokesman said head teachers had done their utmost to try and keep schools open.
The Met Office said a yellow ice warning still applies for the region and councils are warning of disruptions to refuse collections.
BBC forecasters are predicting it will stay largely cloudy, with the chance of some further light snow into Wednesday.
Bin collections
Shropshire Council and Telford and Wrekin Councils have said refuse bins or recycling boxes may not be able to be collected from some homes because of snow or ice.
The advice from both councils is to leave rubbish bins out so they can be collected as soon as is practical, but to save uncollected recycling until the next scheduled collection day.
Telford and Wrekin Council said: "Please ensure that your bin is not blocking the footpath or the road."
In the same area green bin collections are suspended until further notice.
School closures
Jim Collins, the assistant director for education and skills at Telford & Wrekin Council, said the decision to close a school was down to the head teacher.
Mr Collins said: "It's not a local authority responsibility, it's down to the individual school.
"What the head teacher must assess is whether they are able to open the school safely.
"That's down to level of supervision and the safety of the site.
"I can understand that as a parent it is very difficult indeed if you don't find out until shortly before you go to work that the school's to close.
"It's a very difficult judgement call to make."