Icy conditions persist in Shropshire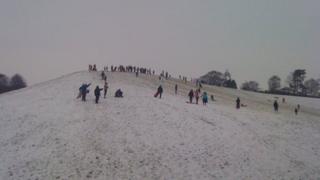 Gritting teams have been out across Shropshire as the snow and icy conditions continue to cause some disruption in the county.
Many bus services are operating on amended routes and passengers are advised to check with the companies.
The county council said it was mainly gritting more rural roads and back lanes where there could be problems.
The ambulance service reported an increase in call outs on Friday, mainly as a result of slips and falls.
BBC forecasters said Saturday night was expected to be very cold with widespread frost and ice and a minimum temperature of -5C.