Shropshire services affected by snow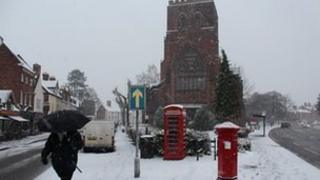 Heavy snow has caused disruption across Shropshire as roads were closed and public transport affected.
More than 120 schools across the county were also closed, or partially closed, because of the weather.
Snow is expected to continue falling across the county over the weekend, the Met Office said.
AFC Telford United has appealed for volunteers to help clear snow from its pitch ahead of a match against Alfreton on Saturday.
West Mercia Police said people should be prepared for disruption on the roads, including altering travel plans.
Hazardous driving conditions have been reported on the A49 near Marshbrook, although it has been reopened after an earlier accident.
Snow also closed the A4117 at Rocks Green, near Ludlow.
Arriva also suspended all of its bus services in and around Shrewsbury.
Snow became heavier through the morning and many of the schools closed at lunchtime.
The weather has also affected sporting fixtures.
'Wedding tractor'
All Ironbridge gorge museums closed on Friday.
Farmer Jim Jones, 26, from Worthen, used a tractor to make sure he got to his wedding on time.
He was due to get married to Heather Morris, 24, at Chirbury Church at 11:30 GMT.
Mr Jones said: "We chose today 14 months ago and didn't think we'd get this.
"We've been following the weather very closely.
"There's family coming from Southampton, some have flown across the Atlantic."
Telford and Wrekin said its team of volunteer snow wardens were called into action.
Roger Lewis, 42, said he had been up at 06:30 GMT clearing snow from around St Matthews School in Donnington Wood.
He said: "As soon as I heard about the scheme I joined up in the summer.
"I'm Telford born and bred and it's great to see more old fashioned community spirit."
There were several crashes around the county, including a lorry near Coalbrookdale.
Hazardous conditions were also been reported on the A458 near Much Wenlock, between the B4378 Bourton Road and A442 Kidderminster Road.
Shropshire Council said it was prepared for further snowfall over the weekend, with 17,000 tonnes of salt at its depots, "more than enough to deal with any eventuality".