Market Drayton butter factory 'to create 100 jobs'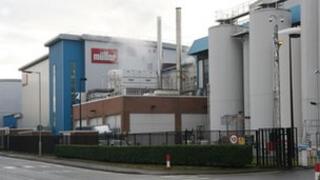 Up to 100 new jobs are expected to be created at a Shropshire dairy plant as part of a new £17m investment.
Muller UK announced a new butter-making factory would open at its Market Drayton base in the autumn.
It said the move was also good news for dairy farmers in the area as it would need to source more milk.
But some producers said it was not clear if the investment would lead to higher milk prices, which they claim is the "biggest issue" they face.
Paul Rowbottom, part of the Farmers For Action group that blockaded the Market Drayton site last year, said: "Butter is a very low-commodity product, so they're unlikely to pay a good price for it. We'll see.
"They're not even paying cost of production to a lot of farmers, although there are some companies paying even less."
Rapid expansion
Muller UK's chief operating officer Ronald Kers said it would be looking to recruit more milk suppliers from the spring onwards.
Andrew Bebb, who farms near Hanwood in Shropshire, described the investment as "brilliant news" and a "vote of confidence in UK milk producers".
The new facility, which would be the biggest of its kind in Britain, is expected to process about 90,000 tonnes of cream a year and produce about 45,000 tonnes of butter.
Muller has recently spent millions expanding its business, buying Wisemans Dairies, Britain's biggest milk distributor, and the Minsterley creamery in Shropshire.
It is now one of the biggest employers in the area.
Ollie Hobbs, 18, from Market Drayton said the investment was positive news.
He said: "Lots of places are closing down. Hopefully the investment will trickle down through the local economy."
'Fall apart'
Local resident Sid Small said Market Drayton now depended on Muller.
"There's very little jobs-wise for young people round here. If Muller pulled out, the town would fall apart," he said.
Secretary of Sate for the Environment and North Shropshire MP Owen Paterson said the news was good for the UK economy as a whole.
"We are a net importer of dairy products - 22% of the food we consume are imports we could produce here.
"We can't produce mangoes, but we can produce dairy products.
"It's about adding value, substituting imports and producing products that can eventually be exported."
Mr Patterson said Muller had so far had little use for the cream it had produced and had been forced to sell it on the global commodity market.