Second Shrewsbury River Severn hydro scheme revealed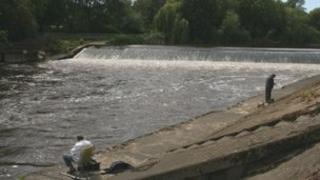 The River Severn in Shrewsbury could be used to generate electricity under plans released by the town council.
The proposals are separate to those first put forward by Shrewsbury Hydro in June 2011.
Council leader Peter Nutting said the scheme at Castlefields weir was at a very early stage, but could provide the authority with an income.
The council is investing £10,000 to £20,000 to employ a specialist to check the viability of the project.
Mr Nutting said the council first needed to ensure the project "would give a financial return without having any detrimental effect on the river".
He said initial reports should be completed within the next few weeks, with the council hoping to take advantage of government feed-in tariffs and subsidies which are set to drop later in the year.
Any plans would also need the approval of the Environment agency.
Second scheme
Mr Nutting said the land earmarked for the hydro turbine was jointly owned by the town council and Shropshire Council and the scheme could provide a return for both authorities.
He said one option was to invite other groups or companies to build and operate the turbine.
Shrewsbury Hydro, part of Transition Town Shrewsbury, has already invested more than £50,000 in its plans to generate two million kilowatt hours of electricity a year at the weir, enough to power 350 to 400 homes.
The group welcomed the town council's plans.
Mark Scutt from Transition Town Shrewsbury said: "It's a positive move by the town and county councils to look at the working on this together.
"We've done a fair amount of work that'll help towards what they're doing."
The organisation said its own studies suggested a hydro-electric scheme at Castlefields weir was financially viable.