Diesel theft delays Telford school pupils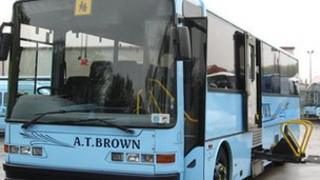 Diesel worth more than £3,000 has been stolen from coaches in Telford - delaying pupils returning to school.
The fleet of coaches, owned by A.T. Brown Ltd, was targeted at the Horton Enterprise Park between 19:30 and 21:30 GMT on Sunday.
Owner Ewen MacLeod said: "As a result around 50 children were late for their first day back at school."
Thieves removed parts of the security fence to gain access and then siphoned diesel from 14 parked coaches.
'Professional unit'
At least 2,000 litres (439 gallons) of diesel was stolen and police believe tyre tracks at the scene suggest a van or small truck was used.
Mr MacLeod added: "It will serve as a warning to others that there's a professional unit of well-equipped thieves around.
"They put businesses and people's livelihoods at risk, as in the current climate we can't afford to keep losing diesel and paying for extra security measures."
It is the second time the company, which employs 35 people, has experienced theft of this kind.