Ironbridge flooding hits Christmas sales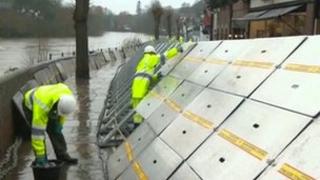 Businesses close to flood defences in Ironbridge say trade over the Christmas and new year period has been severely affected.
Ironbridge Arts and Antiques Centre (IACC) said sales were 40% down on the same period last year.
Telford and Wrekin Council said it had worked hard to remind people businesses were open as normal, despite the defences closing part of the Wharfage.
The flood defences, up since Christmas Eve, are being taken down.
Nigel Byard at IACC, which features about 70 different local traders and craft makers, said the business had managed to keep the river out, but trade had suffered.
"It's been very quiet, a lot quieter than normal. The biggest problem we've found is people can't access Ironbridge," he said.
"People have told us they've come to the end of the Wharfage, seen the road signs and driven away."
Social media
The Environment Agency said temporary flood barriers had protected homes and businesses and that the River Severn now looked to be slowly falling.
It said it had also worked with the local authority to improve access behind the flood barriers soon after they were put up.
A landslide on Jiggers Bank, thought to have been caused by heavy rain, has also reduced access, closing one route into the town since 27 November.
Diversions remain in place.
Mr Byard said a social media campaign to remind people the town was open for business had made a "massive difference". But turning online support into sales has not been so easy.