Flood defences remain in Shrewsbury and Ironbridge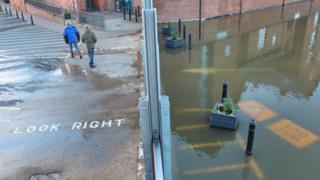 Flood defences remain in place along the River Severn in Shropshire.
The river peaked at Ironbridge on Wednesday afternoon, the Environment Agency said.
Extra defences were put up near Theatre Severn in Shrewsbury, where the river peaked on Tuesday night.
Flood warnings in Shropshire include those at Bridgnorth, Quatford, Ironbridge, Jackfield and at the showground and The Quarry in Shrewsbury.
The level peaked just below Smithfield Road in Shrewsbury and staff at The Salopian Bar on the road said they were pumping out their cellars.
In the Midlands more than 20 flood warnings remain in place, but there are no severe warnings.
An agency spokesman said: "Looking at the forecast it looks like a few showers which hopefully won't send the levels back up again.
"[However] there could be some spells of surface water flooding around the patch in the next week as well, so it's not quite time to put the sandbags away."