Flood defences up as river set to peak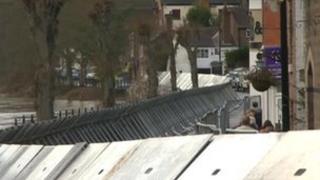 Flood defences remain in place along the River Severn at Ironbridge in Shropshire.
The Environment Agency said the river at Buildwas Gauge was 4.68m (15.4ft) high and rising on Monday morning.
A peak of between 5.1 and 5.4m (16.8ft and 17.8ft) was expected on Tuesday evening - higher than the level seen at Christmas, a spokesman said.
Water levels are expected to remain high as more rain has fallen in Wales - the source of the river.
Traders in Ironbridge have reminded visitors it is "business as usual" despite the barriers being up.
Claire Shaw, of Queenies tearooms, has started a social media campaign to keep visitors coming into the town.
"The build-up to Christmas was worse when the weather was bad but the flood risk was low," she said.
"Whereas (now) people are coming down to look at the flood barriers."
Flood warnings are also in place for the River Severn at the showground and The Quarry in Shrewsbury, Hampton Loade and Highley, and Quatford.
There are two warnings for the River Vyrnwy at Melverley and Maesbrook where levels are expected to peak overnight.
Across the Midlands, over 30 flood warnings are in place, but no severe warnings.