New Year's Honours list: Shropshire fundraiser receives British Empire Medal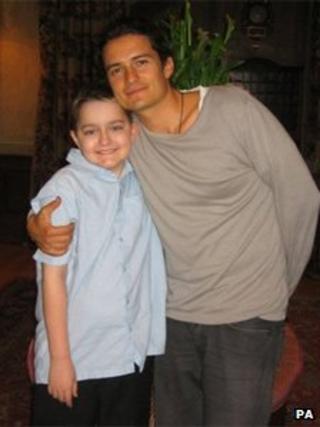 A woman who has raised more than £55,000 for charity in memory of her 11-year-old son has been recognised in the New Year's Honours list.
Mandy Painter, 46, started fundraising after her son Josh died from a brain tumour in August 2006.
Originally from Bridgnorth, Ms Painter will receive the British Empire Medal and is one of 11 people from Shropshire to be named on the honours list.
Paralympian Mickey Bushell is appointed MBE for services to athletics.
Bushell, who won the T53 100m wheelchair final, described the news as a "huge honour, but a bit of a shock".
His fellow London 2012 gold medallist, the archer Danielle Brown also becomes an MBE.
'Sat and cried'
Mrs Painter, who now lives in Worcester, said she had struggled to keep the news of her honour a secret.
She said: "It's a really emotional thing for me, and not being able to share it with anyone has been really difficult.
"When I got the letter from the Cabinet Office, I thought, 'oh have I done something wrong?'
"Then when I read it I just sat on the bed and cried."
She said her son would have been "absolutely amazed and proud".
"It's so emotional, because this is about Josh, it's not about me," she added.
Mrs Painter said she had started fundraising for the Starlight Children's Foundation because "it was what Josh wanted to do".
She said the charity had helped Josh, a big Lord of the Rings fan, to meet one of his heroes, Orlando Bloom, one of the stars of the film.
"We knew Josh was in palliative care, we knew he was going to die, he knew he was going to die, but it was just such an amazing thing," Mrs Painter added.
The Starlight Children's Foundation also used a photo of Josh with Orlando Bloom on promotional material, which helped raise a further £550,000 for the charity.
She said her son would have celebrated his 18th birthday in 2013 and that the year would bring a mix of emotions.
She said: "I just need to get through another milestone.
"It [the fundraising] is hard and emotional, but I get so much out of it, because it just keeps his memory alive."