Barriers up in Ironbridge, Shropshire, as river rises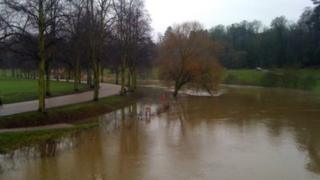 Flood barriers are going up in Ironbridge, Shropshire, as the River Severn is expected to continue rising.
Chris Bainger, of the Environment Agency, said the river in that area was expected to rise about 30cm (nearly 1ft) over the next day.
"The good news is that we have all the barriers in place, I don't foresee any further disruption," he said.
The Wharfage in Ironbridge is closed between Dale End roundabout to Church Hill roundabout.
The main Frankwell and Riverside car parks in Shrewsbury are also closed.
There are more than 70 flood warnings in place for the Midlands. The Environment Agency has put warnings in place for stretches of the Rivers Severn, Avon and Wye.