Flood warnings on Severn in Shropshire after heavy rain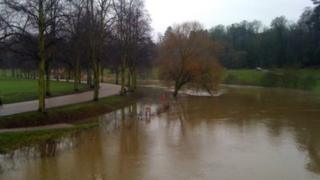 Five flood warnings are in place on the River Severn in Shropshire following heavy rain.
They apply at Montford Bridge and Shrawardine, at the Showground and The Quarry, Shrewsbury, at Quatford, at Ironbridge and Jackfield and at Hampton Loade and Highley.
Shrewsbury's Frankwell main car park has reopened but the Riverside car park in the town has remained closed.
Some defences put up on Thursday remain in place in Shrewsbury.
An Environment Agency spokesman said: "Levels will continue to rise well into tomorrow and we're keeping a very close eye on any developments.
"We will keep under close review whether any more flood defences are needed."