Flood barriers considered in Ironbridge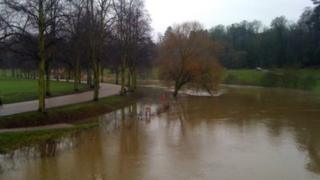 A decision about whether to put up flood barriers in the Ironbridge area of Shropshire is to be taken on Sunday.
The Environment Agency said it was also considering if further barriers should be put up in the Frankwell car park area of Shrewsbury, where some defences were placed on Thursday.
One flood warning is currently in place on the River Severn in Shrewsbury.
The agency said levels were "very high" along the river from the town down to Gloucester.
Frankwell car park in Shrewsbury, which had been closed on Thursday evening due to flooding, partially reopened on Friday, with about 100 spaces being made available in the main section.
The riverside section has remained closed.