Frankwell River Severn flood warning no longer applies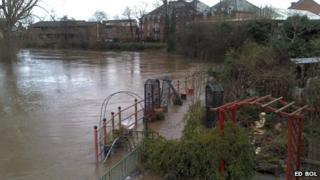 A flood warning issued by the Environment Agency after heavy rain in Shropshire is no longer in force.
The agency had said the River Severn at Frankwell, Shrewsbury, was at risk, but this no longer applies.
Defences were put up in the town on Thursday. Frankwell car park, which had been shut, has partially reopened.
Police cones were being put along The Wharfage at Ironbridge and bungs put in gulleys as a precaution by Telford and Wrekin Council.
A spokesman from the authority said it was monitoring the condition of the road from Ironbridge to Rodington, which may need to be closed after excessive amounts of floodwater.
The agency said the river level was not likely to cause much disruption but more rain meant it could peak at Christmas.
Frankwell car park in Shrewsbury had been closed on Thursday evening due to flooding.
About 100 spaces were available in the main section of the car park from Friday afternoon, but the riverside section will remain closed.