Tibberton village-owned store boosts community spirit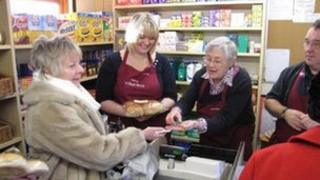 Volunteers responsible for a community-run store have celebrated its first year, saying it has revitalised the village.
"That was one of the most important things for us, that it would have a social benefit," volunteer Geraldine Stokes-Harrison said.
Until the community-owned store opened in December 2011, people in Tibberton, Shropshire, faced a 10-mile round trip to Newport.
Ms Stokes-Harrison was one of a group of villagers who raised about £8,000 to set it up, even buying in a locally built wooden cabin to serve as a shop.
The village had been without a shop for more than a year after a small section within the local pub closed down.
Ms Stokes-Harrison said community spirit had been badly affected since the village lost its full store in 2009.
Financially viable
She said: "You rarely saw anyone in the street, so people rarely talked to each other.
"Now it's become a hub for the whole village. People go in for a loaf of bread and they're still chatting 20 minutes later and that's great."
Nick Carter, who volunteers at the store one day a week, said: "Pretty much the whole village goes through here to get things. You get to meet so many different people."
Set up with a very different ethos to the supermarket giants, the store has also proved itself financially viable.
One of its biggest successes has been an area of the shop devoted to ultra-local products, from hand-knitted scarves to meat, pies, fruit and even perfume.
'Save local services'
"A few weeks ago you could see the pigs in the fields, now they're on the shelf," Ms Stokes-Harrison said.
Its accounts are due to be formally announced at an AGM in January, but the committee said it had made a profit and that much of it would be reinvested in community groups and local projects.
According to the Plunkett Foundation, the model has proved itself a financial and social success across the country.
The organisation, set up to support rural communities and community ownership, said more than 300 village-run shops were now operating throughout the UK.
It said 97% of those opened in the past 25 years were still running and many of them had also saved other local services, such as post offices.
In Tibberton, the store's success has owed much to its 50 volunteers, ranging in age from 14 to their 80s.
With no retail experience between them, the team faced a steep learning curve, learning everything from health and safety to bookkeeping and operating a till.
Peter Harman, who has volunteered at the store since it opened, said it had been a rewarding experience, but the biggest benefit was to see the improvement in "community spirit".