Shrewsbury flood defences put up as river rises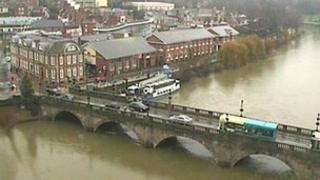 Flood defences have been put up in Shrewsbury as more rain is forecast over the next few days.
The Environment Agency (EA) said first-stage defences went up in Frankwell on Thursday evening. The car park is due to close on Friday morning.
A flood alert remains in place along the River Severn throughout Shropshire.
The agency said the river level was not likely to cause much disruption but more rain meant it could peak at Christmas.
Oliver Parry at the Salopian pub in Shrewsbury said he was watching the river levels carefully but did not expect the pub's cellars to be affected until the weekend at the earliest.
"It doesn't really matter how much it rains here, it depends on how bad it is in mid-Wales," he said.
Pantomime delay
Dave Throup from the Environment Agency said flood defences were put up as a precaution in the town as the river continued to rise.
He said the organisation had waited until the pantomime finished at Theatre Severn on Thursday, so audiences were not affected.
The theatre, which sits alongside the River Severn, said performances of Jack and the Beanstalk were sold out over the next few days.
Earlier it said performances were not expected to be affected by floods, but that it was contacting audiences to warn them to leave extra time to find parking.
Terry Lowrie-Herz, who lives at halfway House, west of Shrewsbury, said problems with drainage and sewage overnight had caused his garden and kitchen to flood.
'Never ending'
He said: "Thank goodness we came out at 4:30am, otherwise who knows how bad it would have been.
"I've got some rods and cleared out the drains. It took a while, but thankfully it's started to go down.
"The garden was flooded, along with the kitchen and utility room, which are at a lower level than the rest of the house.
"We've got a well in the garden and even now the water is almost level with the garden. It's the highest I've seen it."
Mr Throup said staff at the organisation were bracing themselves for yet another busy period, with floods in 2012 seemingly "never ending".