Mark's Pit Stop homeless charity seeks new home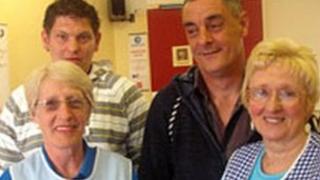 A charity that supports homeless people has said it is struggling to keep a roof over its own head.
Along with Pearl Maiden, Janet Groves set up Mark's Pit Stop in Wellington, Shropshire, eight years ago after the death of her 39-year-old son.
"He was a pleasant and lovely young man, kind and generous, but unfortunately he got into using drugs and eventually he overdosed."
A collection at Mark's funeral raised £900, which his mother wanted to give to other parents to help pay for their son's rehabilitation.
She said: "They said it was being paid off like a mortgage and told me to give it to someone who had nothing. That's where the idea came from really.
"We could see how many people were sitting around Wellington with nothing."
'Desperate' year
Since her son's death, Mark's Pit Stop has offered a drop-in centre, providing food and clothing to homeless people in the area.
"We started off with just two clients and I was terribly worried we had wasted the money," Ms Groves said.
Today, Mark's Pit Stop feeds about 50 people a week on Tuesdays and Thursdays, including those on low incomes as well as homeless people.
Since its launch, the charity has been based at Tan Bank in Wellington within the Salvation Army's Kip Project, which also works with homeless people in the area.
The Kip Project finds accommodation for rough sleepers and also runs a day centre, offering help to tackle issues such as alcohol and drug addiction and information on benefits.
The Salvation Army said it now needed the extra room to help deal with an increasing number of homeless people coming through its own doors.
Steve Watkins, who leads the project, said 2012 had been a "desperate" year and its busiest to date.
In the past quarter the Kip Project worked with 72 people to find them accommodation, although lack of beds for young people meant those "sofa surfing" were often being recommended to stay put.
Mark's Pit Stop is due to move out of the Salvation Army building in March, although Ms Groves said closing down was "not an option".
She said: "I feel disappointed and sorry. I don't want to just close up, because so many people are dependent on us.
"We will find somewhere. It can't close, not after we've worked so hard."
Ms Groves said the charity had struggled to find a new building in the town, but was hoping to buy a house and refurbish it to make room for a cafe.
"We need to raise £125,000. I've put up posters asking for help. One young man gave us a cheque for £200, I don't even know him.
"I'm applying for a lottery grant, but we need local businesses to help."
Ms Groves said the charity was running out of time, but that it would find a way of supporting homeless people in the town.