Birthday party gatecrashed in Maesbrook: Children hurt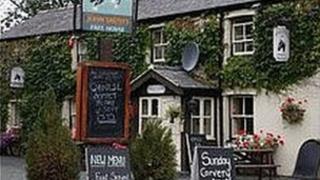 Children and young adults were hurt, with some suffering "horrific injuries", when a party in Shropshire was gatecrashed by a gang of young men.
The birthday party in Maesbrook on Friday was raided by a group who smashed windows and attacked guests.
Sean Fogarty, a parent of a 15-year-old party-goer, said some "horrific injuries" had been sustained.
Eight people were treated at the Royal Shrewsbury Hospital but none stayed overnight, West Mercia Police said.
'Hit by car'
The parents of the teenager whose birthday was being celebrated did not want to comment to the BBC.
Phil Bewley, landlord of the Black Horse pub, near to the house where the party took place, said: "Someone could have easily died."
Mr Bewley helped young people who fled from the house during the disturbance.
He said: "It's lucky someone didn't get seriously, seriously hurt. One lad was hit by a car as he tried to run away, one was hit over the head by a crowbar, one was hit over the head with a bottle.
"There were six or seven police cars here, a couple of ambulances, a riot van, all down the road. Pretty crazy for Maesbrook."
He defended his neighbours, whom he described as "no trouble".
He said: "It's not their [the family's] fault. What should have been a quiet party with a few friends just escalated."
'Clouted with bottle'
Mr Fogarty, who was called to the disturbance, confirmed no adults had been in the house at the time of the event but it had been held with parental consent.
He added: "A much older group of youths, up to 20 years old, burst into the house with crowbars.
"The youngsters just got horrific injuries. My daughter's boyfriend needed seven stitches, another child is temporarily deaf after being clouted with a bottle.
"All of them are traumatised and distraught."
A 17-year-old youth was arrested on suspicion of assault and has been bailed pending further inquiries, police said.
West Midlands Ambulance Service sent three ambulances and a rapid response car to the scene at 22:33 GMT.
A spokesperson said: "In addition to the patients taken to hospital by ambulance, two more were treated at the scene and another was taken to hospital by a friend."