Telford police give away 800 teddy bears for Christmas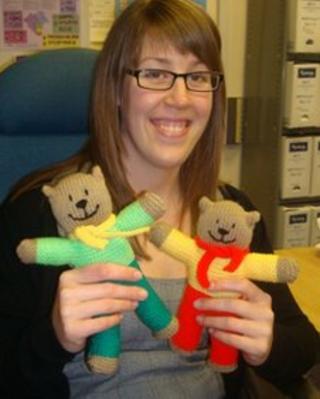 Children being treated at two Shropshire hospitals are being given knitted teddy bears for Christmas by the police.
Telford police appealed earlier in the year for people to knit bears to help young victims of child abuse investigations.
A spokesman said they had now received more than 1,200 bears.
Police will now donate 800 bears to children at Princess Royal Hospital and the Royal Shrewsbury Hospital.
Temporary Det Sgt Danielle La Croix said the bears helped officers to build a rapport with children involved in abuse investigations.
"We will be keeping the rest of the teddy bears to use in future investigations as evidence continues to show that the teddy bears, or 'trauma bears' as they are more formally called, are a really effective way of helping young victims," she said.