Shrewsbury's Wakeman School hopes to leave art legacy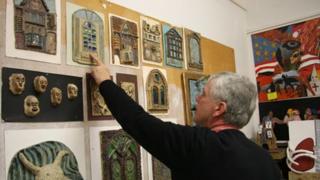 As a Shrewsbury school prepares to close its doors for the last time, its art teacher says he faces a Herculean challenge as he puts together a lasting memorial to thousands of pupils.
Just 90 pupils are left at the Wakeman Secondary School, many of them in year 11 and are either taking or preparing for GCSEs.
Next year, the school marks its 75th anniversary but celebrations are expected to be muted as its pupils leave the school gate for the final time, on 19 July.
Art teacher and self-confessed hoarder Mike Griffiths believes the pupils' own work could provide a "lasting legacy" to the school.
Since 1983, every pupil has taken part in an art project to create a ceramic tablet, depicting windows and facades of buildings in the town.
About 1,000 of them are expected to go on permanent display both inside and outside buildings across Shrewsbury town centre in a Wakeman art trail.
While the art is free, Mr Griffiths said mounting them on buildings or in frames could cost up to £10,000, because of the sheer number of pieces.
About £6,000 has already been raised, £2,000 of it from Shropshire Council, which is supporting the project.
Mr Griffiths said: "I've taught about 4,000 pupils in my 30-odd years here and about 1,000 of them have never picked up their work. This is my gift to the town.
"I was at a governors' meeting earlier in the year and we were talking about commissioning an artist to create a sculpture for Abbey Gardens as a memorial.
"I just thought that was the wrong thing when we've had thousands of artists here over the years."
While some of the stoneware tablets are almost 30 years old, others were produced just last week.
Mr Griffiths hopes all of them can be used in the art trail, mounted in weatherproof panels or in cement.
"I'd always hoped the artwork would be passed on to a new, young teacher," he said.
"But now, the alternative is that unless something is done, this is going to be thrown away and that would break my heart."
'I made that'
Wine merchants Tanners was the first outlet to be approached, armed with a selection of the tablets.
He said other organisations have proved equally as enthusiastic and had come forward, offering space for the panels.
St Mary's Church, the Abbey, the library, St Chad's, St Alkmund's, the Hive arts centre, Ditherington Flax Mill, the market hall, Shropshire Archives and even individual home owners have offered to take part.
Many of the buildings have themselves inspired the 30-year Wakeman project, and are represented among the tablets.
Mr Griffiths said: "I came here for an interview. I remember getting off the train, going round the corner and the first thing I saw was the castle.
"There were so many fantastic buildings, even within 50 yards of the school."
After getting the job, he challenged the school's pupils to "look up" at buildings around the town and use them as inspiration for artwork.
"Some of my former pupils are now in their 40s and I would love for them to walk around town with their children or in later years their grandchildren and be able to say 'I made that'."