Telford & Wrekin Council moves to new premises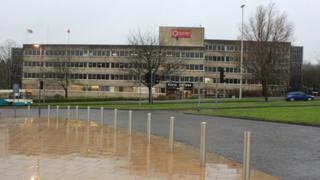 Telford and Wrekin Council is moving out of civic offices where it has been based since 1976.
The site in Telford has been sold to Asda and council staff are transferring to buildings across the borough at a cost of £5m.
Moving to Addenbrooke House will help it to save office space and more than £2m a year, the authority said.
It will open its customer First Point reception at the building on Ironmasters Way on 17 December.
Addenbrooke House currently has no meeting rooms big enough to host public meetings, so they will be held at various locations including The Place, Oakengates, and the Abraham Darby Academy's Auditorium.
Council leader Kuldip Sahota (Labour) said building large offices with a large meeting room "wasn't value for money".
He said: "It's £5m in total - the purchase of the Addenbrooke House, refurbishment, ICT improvement of the Darby house and the refurbishment of it.
"It is a good value for money. It's a lot better than building a whole new office and trying to do it up and spending £20- £30m on it."