Lord Hill statue's safety cordon extended in Shrewsbury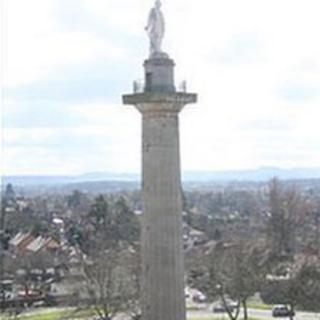 A safety cordon around a 133ft (40.5m) tall column has been extended after a second piece of masonry fell from the statue on top.
Masonry fell from the statue of Lord Hill in Shrewsbury last week, Shropshire Council said.
The latest piece fell outside the cordon that was set up in April when a piece of the statue's hand fell off.
The extension means vehicles cannot reach Processional Way or use disabled parking bays outside the crown court.
Frost damage
Temporary disabled parking bays are being provided at the end of Shirehall car park, adjacent to the magistrates' court.
Last month, conservation experts inspected the statue to assess what repairs were needed.
Initial findings showed there was some damage to Lord Hill's left arm.
Keith Barrow, leader of the Conservative-run council, said: "Lord Hill famously fought in a number of battles, but his biggest enemy at the moment is rain and frost getting under the surface and causing pieces to break off.
"Given the statue's current state and the likely cold spell ahead, we've had to extend the perimeter of the fencing to help protect passers-by."
He said he hoped this could be for a short time and the access route and bays can be reopened soon.
The 17ft (5m) high statue commemorates Waterloo general Lord Rowland Hill who was born in Hawkstone in 1772 and was second in command to the Duke of Wellington at Waterloo in 1815.