Holy Trinity Church Shrewsbury offers Christmas meals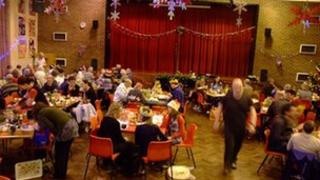 A Shrewsbury Church is hosting Christmas dinners for people in the town who would otherwise be alone.
Holy Trinity Church in Meole Brace said it was the fifth year it had put on the meals and was expecting to cater for 100 people at the Trinity Centre.
Organiser Fiona Iddon said the number was limited by the size of the venue .
She said dozens of volunteers had offered their time on Christmas Day to help make meals and organise entertainment.
"There's an amazing number of people on their own over Christmas, often because of family break-ups and bereavements.
"Christmas is a really hard time for many of these people," Ms Iddon said.
"We don't want to skimp, we want to put on the best meal we can."
She said the entertainment would run from midday until 16:00 GMT and would include children's entertainment, a visit by Father Christmas and carols.
Some of those expected to attend have been referred by the Shrewsbury food bank, Ms Iddon added.
The event has been funded by donations from individuals and from the Churches Together Cafe Connect shop.