Plans to build affordable homes in Shropshire scrapped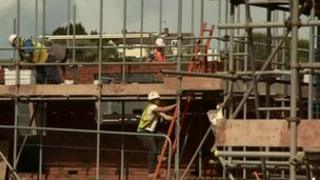 Plans to build 176 affordable homes in Shropshire have been scrapped because they are not financially viable, according to Shropshire council.
It said it had to renegotiate deals for more than 30 sites because builders did not have the finance to include the homes as part of their developments.
The government removed requirements for builders to include affordable housing in developments in September.
More than 2,000 affordable homes have been built in Shropshire since 2007.
'Never delivered'
The authority said in 2007 it could demand up to 50% of a new housing development be affordable homes, under the Section 106 rule.
The rule required housing developments to include community facilities including social housing, playgrounds or community centres.
After the government changes in September, the council said it had now revised this down to just 13%.
Nick Wood from the council said it had to weigh up the loss of affordable homes against the value of getting sites developed.
He said: "These developments are never going to be delivered with 40% being affordable housing.
"The danger is these sites would sit there for years and years to get anywhere near those sorts of numbers unless there is a dramatic improvement in the housing market."
Lettings agency Shropshire Home Point, which took over the council house waiting lists, said it had more than 6,000 people waiting for homes.