Shrewsbury cemetery named Mytton Oak Remembrance Park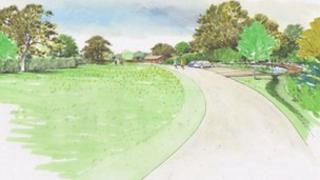 A £1.1m cemetery is to be built in Shrewsbury, as the current site prepares to close for new burials within three years.
The Mytton Oak Remembrance Park has been named after a public consultation.
A planning application for the new cemetery at Bowbrook, near Mytton Oak Road, is expected to be submitted later this month, Shropshire Council said.
Work is expected to start in spring 2013 and be completed the following year.
The current Emstrey cemetery on London Road will remain open to visitors, but is due to reach capacity in 2015.
Shropshire Council said the new site, which would include room for woodland burials, would provide a cemetery for Shrewsbury for the next 100 years.
The local authority said the £1.1m cost had been built into its 2012-13 budget and would use council-owned land in a bid to keep costs down.
The new site is expected to include areas "for quiet reflection" and was named after a public consultation.
Its woodland will include an oak descended from the tree after which the area is believed to have been named.