Driver rescued from The Burway after ice skid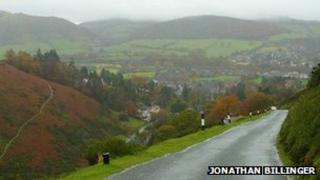 A driver had to be rescued by police after his car skidded on ice and almost plunged over a steep drop in Shropshire.
The Land Rover car spun on black ice while travelling down The Burway, in the south of the county, on Thursday.
The driver's wife and two dogs escaped from the car but he was left with his foot on the brake with the car 4in away from the edge of the hillside.
Shropshire Council closed roads in the area due to the icy conditions.
No-one was injured in the incident.
'Very lucky'
West Mercia Police said the man's wife, after escaping from the car at about 12:50 GMT, called for help.
They said conditions were so treacherous that police and fire crews could only get up to about two miles away in their own vehicles before having to make their way by foot.
PC Barry Morgan, one of the first officers to arrive, said he talked the driver through stabilising the car by using the handbrake and first gear.
He said crews then managed to carefully help him from the vehicle.
PC Morgan said: "He was very lucky as one of the wheels was barely 4in from the edge of the steep hillside and the car had initially continued to slide on the ice, despite him using the brakes."
Shropshire Council has now shut The Burway and surrounding hilltop routes across the Long Mynd from Asterton, Ratlinghope and Church Stretton.
Police said the couple would be able to arrange the recovery of their car once it was safe to do so.
Insp Ed Hancox, from West Mercia Police, said: "The Burway is a treacherous road in poor weather and is especially dangerous in frost, ice or snow, as it is not gritted.
"Run-off from the surrounding fields gathers on the road and re-freezes into sheet and black ice."