USA WWII pilot Clifford W Jensen honoured with Telford plaque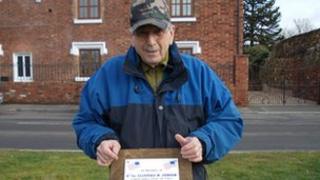 A plaque has been unveiled in memory of a US pilot who crashed in Shropshire during World War II.
Clifford W Jensen died after losing control of his aircraft during a training flight from Atcham Airfield in June 1944.
He was widely praised for piloting his P-47 away from a local school and homes before crashing at Lawley Bank.
Ivor Jones, now 79, witnessed the crash as a child and said he had made it his life's mission to recognise the pilot.
'Like hell'
He said: "He was on fire and when he came down he swerved to the right, avoiding Lawley School and houses at Avondale.
"I lived about 500 yards from the crash site. A gentleman from the Bulls Head pub tried to get him out, but the flames were too much. It was like hell.
"I can still smell the burning today. He had 370 gallons of aviation fuel on board and the trees just went up like matches.
"He also had four 50 calibre machine guns, each with 400 rounds on them, and they were going off too."
Mr Jensen was one of many American pilots based at Atcham, which was used as a training airfield throughout the war, before being abandoned in 1946.
A plaque was officially unveiled by Telford Labour MP David Wright at Station Road in Lawley Bank, where Mr Jensen crashed.