South Shropshire poverty 'on the rise'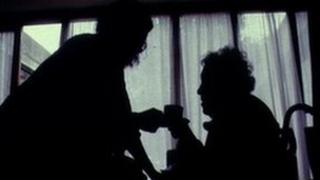 Christian organisations in south Shropshire have said they are worried about rising poverty in the area.
In a new report, Churches Together Around Ludlow said young people and the elderly were most affected by council cuts and poor job opportunities.
Ludlow Food Bank also said it had seen an increase in demand.
Shropshire Council said it was faced with "unprecedented funding cuts", but it was "committed to protecting the most vulnerable in our society".
Council leader Keith Barrow said the local authority had to make £85m of savings over four years and was doing "everything we can to maintain essential frontline services".
The Churches Together group said elderly people made up an increasing proportion of the local population, with only 56% of people in the town of working age.
'Diminishing resources'
But the number of young people needed to drive the local economy had fallen since 1991.
One of the authors of the report titled Ludlow Under Pressure, Neil Richardson, said: "Everywhere, rising levels of need and at the moment, diminishing resources to meet them."
While the number of young people claiming Jobseeker's Allowance in Ludlow remains well below the national average, the group said low incomes common in rural areas disguised the full picture.
It said young people were also more likely to work in part-time, casual or seasonal jobs.
The group added that a "lack of employment opportunities and affordable housing" meant that young people who left Ludlow to study could "rarely afford to return".
The Churches Together group said local volunteers could play a big part in helping to support those most in need, including possibly manning a drop-in centre in Ludlow.
Ludlow Food Bank, already operated by volunteers, said it had seen a "dramatic" increase in demand over the last three years.
Providing food parcels for people most in need in the surrounding area, Ludlow Baptist Church said it was now working with about 100 people.
The Reverend John Edwards, who helps run the food bank, said the number of people it worked with had doubled since 2009.
In one case Mr Edwards said a pregnant woman had walked six miles from Clee Hill to Ludlow to pick up four days' worth of food because she could not afford the bus fare.