Rock fall closes Jiggers Bank in Shropshire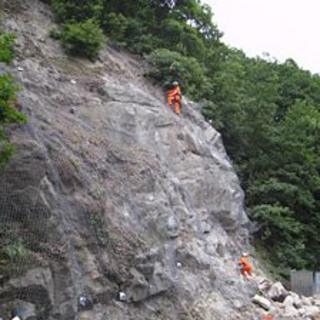 A major Shropshire road is to remain closed after "about a tonne of rock" fell on to the carriageway.
The rock fall happened at Jiggers Bank, a main road into the Ironbridge Gorge, overnight on Tuesday.
Neil Rushden, of Telford and Wrekin Council, accepted the rock fall could have been dangerous but said it was rare event.
The authority said the road was expected to remain closed until Saturday evening at the earliest.
Traffic has been diverted from Dale End via the Buildwas bypass while engineers carry out stabilisation work.
Jiggers Bank was closed for about two weeks last month while essential maintenance work was carried out.
Mr Rushden, the council's structures and geotechnics team leader, said the location of the rock fall was not where the maintenance was done.
Stabilisation work
He said the incident was probably the result of "recent weather changes we are having - particularly heavy rain fall and the start of a cold snap".
"We had about a tonne of rock drop off the rock face down on to the carriageway. It's subsequently been cleared but obviously we are not prepared to open the road until such a time it's actually safe to do so," he said.
Mr Rushden said engineers had found that the rocks around the hole left on the rock face were weathered and the area was being assessed and stabilised on Thursday.
Jiggers Bank was also closed for several weeks in the summer of 2008 while stabilisation work was carried out.
A reinforced concrete buttress was installed to stabilise rocks near the top of the bank.
The council said it would post updates about the latest situation on its website, Facebook and Twitter pages.