Wounded soldiers battling back at new rehabilitation centre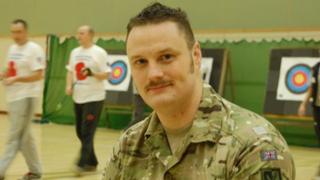 "It's played a massive part in my recovery, mainly because it showed me, being a double amputee, what I can still achieve."
Sapper Clive Smith, 26, from Wolverhampton is one of the first soldiers to be helped by the Battle Back recovery centre for injured servicemen and women in Shropshire.
The new £27m centre in Lilleshall, which is run by the Royal British Legion and the Ministry of Defence (MoD), was officially opened on Thursday.
Mr Smith lost both his legs when he stood on an Improvised Explosive Device (IED) while serving with the 33 Engineer Regiment in the Nahr-e Saraj district of Afghanistan in 2010.
He spent six weeks in the Queen Elizabeth Hospital in Birmingham before being transferred to Headley Court rehabilitation centre in Surrey.
He now splits his time between there and Lilleshall and is working with prosthetic experts to build up strength and walk unaided.
"Most people in the military are active people and with the rug being pulled out from under you with injury, you have to find another way of staying active," he said.
"The centre shows you what sports are open and available to you.
"The more you do, the more your self-confidence grows and gives you a positive outlook."
'Shattered confidence'
The aim of the centre is to provide sports and adventure activities to help the recovery of wounded, injured and sick service personnel.
After first visiting the centre in April 2011, Mr Smith has taken part in rock climbing, canoeing and wheelchair basketball.
Senior course director Pete Golding said the centre helped former troops with not only their "physical scars, but the mental scars, too".
"Some of the guys that we get here, their confidence is shattered, they can't look people in the eye, or shake hands," he said.
"The experience here is about being able to show the guys that what they've got inside themselves can be used to rebuild relationships with family, with friends, with colleagues that they may have lost and re-establish that confidence to be themselves with people."
Warrant officer Neil Harrison, 42, from Market Drayton, Shropshire, is one of those who has used the centre to help his recovery after being diagnosed with a form of Post-Traumatic Stress Disorder (PTSD).
He was sent home from Afghanistan in 2011, after a reoccurrence of knee injury that he suffered in a crash in a warrior armoured vehicle three years before.
He said: "I had negative thoughts - that being sent home meant that I'd failed or I was letting my peers and my regiment down and I was very disappointed with myself.
"Your family do try hard to understand, but the centre puts you in a situation where you're surrounded by people that do understand your background and you can talk through your problems."
It is estimated up to 600 injured servicemen and women could be treated at the centre each year.
The centre has been paid for entirely by fund-raising by the Royal British Legion.