Scottish Power cables would 'devastate' Shropshire valley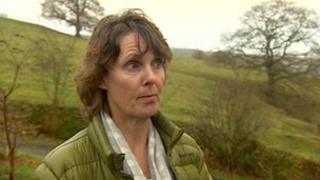 Campaigners have attacked plans to install 12 miles of power lines in part of Shropshire.
Scottish Power want to install overhead lines between Legacy in Wales and Oswestry, Shropshire.
An inquiry into the proposals is being held and the firm says it has scaled back its plans from erecting 16m to 13m high pylons.
One protestor, Ferelith Smith, said: "It would devastate the valley, visually and noise wise."
Ms Smith spoke at the inquiry along with members of the St Martin's Parish Council.
Helen Williams from the council said: "We've got two rivers, wooded valleys, wooded hills and the power lines are set to go through all of these.
"It just does not seem rational."
Scottish Power told the BBC it had plans to put a small section of the proposed lines underground and demand meant there was a need to update the power supplies between Wrexham and Oswestry.
The inquiry in Oswestry is due to finish on 30 November.