Plans on show over former Allscott sugar beet factory site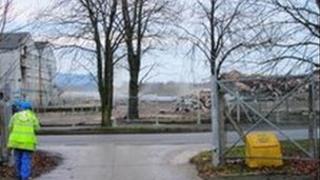 Proposals for developing the site of a former Shropshire sugar beet factory have been put on show to the public.
The ex-British Sugar plant in Allscott, near Wellington, closed in 2007 with more than 100 jobs lost.
Development company Northern Trust said the site on Shawbirch Road could include housing and offices.
Members of the public were invited to an exhibition at Allscott Sports and Social Club in Shawbirch Road from 15:00 to 19:00 GMT on Monday.
The exhibition will also be held at Admaston House Community Centre in Wellington Road in Admaston from 13:00 to 19:00 GMT on Tuesday.
Northern Trust said views of people in the area would help to "inform any proposals for the site before an application is submitted".
Buildings were demolished at the site after the factory closed.