Ellie Simmonds opens Oswestry School swimming pool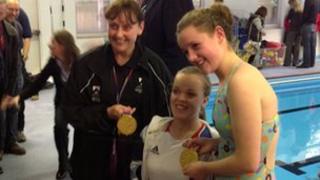 Paralympic gold medallist Ellie Simmonds has officially opened a Shropshire school swimming pool.
It followed the refurbishment of the pool, changing rooms and other facilities at Oswestry School.
Simmonds took part in a question-and-answer session and said she hoped her visit would make a difference to pupils' perception of disability.
Headmaster Douglas Robb said he had approached Simmonds after discovering her cousin was a pupil at the school.
Mr Robb said he had been amazed to find out the pupil was related to Simmonds, who he described as an "inspirational character".
"The paralympics has always been a slight afterthought. London changed all that showing them as genuinely amazing athletes, which is what she is."
The Walsall-born swimmer, who celebrated her 18th birthday on Sunday, won two golds in the summer, in the 200m SM6 individual medley and S6 400m freestyle.
She also picked up a silver in the S6 100m freestyle and a bronze in the S6 100m freestyle.