North Silo at Flax Mill demolition plans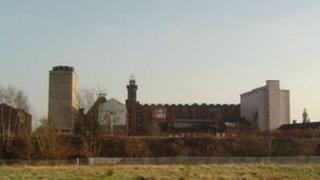 Demolition work is due to begin on the 24-metre tall North Silo site in Shrewsbury.
The silo at Flax Mill Maltings was built in the early 1960s and has not been used since the Maltings closed in the late 1980s.
The work is due to start on Monday and is expected to take four weeks.
The demolition is to clear the site to make it ready for possible future development.
The North Silo is a concrete structure built to provide new and improved storage for the malt leaving the Maltings facility.
It has been damaged by vandalism and arson, and the structure is beyond any form of cost-effective repair, Shropshire Council said.