Shrewsbury sorting office to close in 2014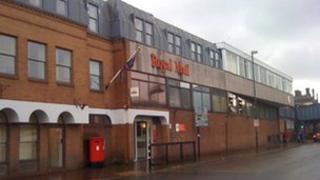 Shrewsbury Sorting Office, which employs 240 staff, will close in 2014, Royal Mail has confirmed.
The company said the operation would transfer to offices in Chester, Cardiff and Wolverhampton.
It said 180 delivery jobs, also based at Shrewsbury's Castle Foregate office, would not be affected.
Royal Mail said it was consulting with staff and unions, and that it hoped to avoid compulsory redundancies.
The Communication Workers Union said it was meeting with company managers on Thursday and would be commenting on the situation in the coming days.
The Shrewsbury centre has been in use, initially as a delivery depot and later as a sorting office, since 1880.
Royal Mail blamed its closure on a nationwide fall in mail in the face of rising e-mail use and the "growth of competition".
A spokesman said it was now delivering 26 million fewer items than six years ago, with a drop in both incoming and outgoing mail within the Shropshire and Mid Wales area.
Conservative MP for Shrewsbury Daniel Kawczynski said he was "very disappointed" by the news and that he intended to meet with Royal Mail to seek reassurances regarding securing jobs for those workers affected.
Mr Kawczynski said his biggest concern was for part-time staff, for whom it might not be worth relocating for an alternative job.
Royal Mail said the closure was part of a wider review of mail operations and was designed to "secure long-term employment and job security".
Under the review, 10 other mail centres across the country are due to close within the next three years.