Loppington farmer attack sentences increased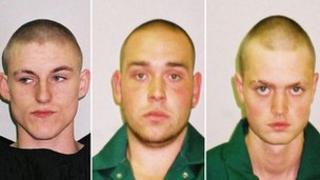 Three robbers who badly beat a 76-year-old farmer have had their sentences increased by the Court of Appeal.
Matthew Anthony Wood, 19, saw his sentence increase by seven months to nine years for attacking John Savage at his home in Loppington, near Wem.
Daniel James Jones, 21, saw his term increase by 21 months to eight years, six months, for what police called a "vicious attack".
Christopher Weaver, 18, had two months added to his seven year, 10-month term.
Attorney General Dominic Grieve QC had challenged the original sentences as too lenient.
Wood, from Noble Street, Wem; Weaver, of Queensway, Wem; and Jones of Aynesworth Green, Shrewsbury, had admitted robbing Mr Savage of his Ford Ranger and £20 in June 2011.
'No mercy'
Shrewsbury Crown Court, which originally detained the men in young offenders institutes, heard they used a belt to tie the farmer's hands behind his back after frogmarching him downstairs from his bed.
They then struck him around the head and face while stealing money and car keys from his pockets.
Mr Savage suffered a fractured eye socket and head wounds and spent a week in hospital.
Ch Insp Sarah Wagstaff said he had shown remarkable "courage and humility".
"Mr Savage has shown tremendous fortitude and spirit in the face of this vicious and horrifying ordeal. The three men responsible showed him no mercy," she said.
At London's Appeal Court, Lady Justice Rafferty, Mrs Justice Thirlwall and Judge Andrew Gilbart QC ruled the original sentences were unduly lenient considering the circumstances of the crime.