Olympic coach gives masterclass at Shrewsbury School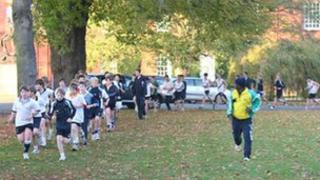 One of the world's most successful running coaches has been sharing his expertise with young athletes at a Shropshire school.
Ethiopian Sentayehu Eshetu has coached more than a dozen Olympic medallists and world record holders.
Working with charity Running Across Borders, Shrewsbury School organised a week-long masterclass with Mr Eshetu.
Teacher Peter Middleton said about 100 pupils had benefited from training sessions.
He said: "I think he's inspired them in even the short time he's been here. The boys and girls are passionate about their sport and passionate about their running.
"He has inspired them to push harder, to commit and to develop their interest."
'Oldest club'
Earlier this year Shrewsbury School came runners-up in the national schools Coventry Relays, its best result for a decade, although Mr Middleton said the school had a rich heritage in the sport.
"The running club was established in 1831, so on those records it's officially the world's oldest running club," he said.
"Even the origins of the steeplechase track event has its basis as as race started here at the school, so it's always been a big part of the school and its history."
Mr Middleton added that he hoped the visit by Mr Eshutu would also help the school's athletes to develop their confidence.
"We have really given the coaching week over to him and he has coached them as he would his young athletes in Bekoji."
Those athletes have included three-time Olympic champion Kenenisa Bekele and London 2012 10,000m gold medallist Tirunesh Dibaba.
Despite boasting a population of only some 16,000 the village of Bekoji has produced a string of champions.
A former PE teacher, Mr Eshutu said he had spotted the potential of many of his athletes while still in their early teens.
He said: "The secret is hard work, not only for running, but for all sport, all life.
"When they run they get money. When they win they also get something. It's a job."
The sessions at Shrewsbury School have included time trials, hill sessions, speed work and track exercises.
Two of those to benefit, 16-year-old Rory Fraser and Ralph Wade, 17, said some of the more technical elements and even warm-up routines had been eye-opening.
Rory said: "We haven't paid too much attention to our arms before. He's showed us how to focus on our whole bodies.
"It gives you a greater respect for your body, warming up and down. You do get injured if you don't do it properly."
The visit was funded by a former pupil and Mr Middleton said coaches at the school had also learnt a lot from the experience.
"Even from watching his warm-up routines it's a fascinating insight. It's very different from the style of coaching that is adopted in Western sports clubs.
"He's really challenged them [the pupils] and given them a good insight into life for a young East African athlete and what they have to go through to achieve in sport."