Shrewsbury and Telford hospitals open extra beds over winter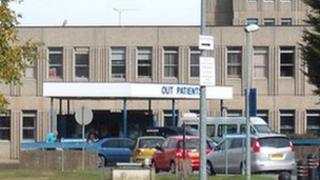 More than 50 extra beds are being opened in Shropshire hospitals to cope with a rise in winter admissions.
A meeting of the Shrewsbury and Telford NHS Trust heard that fully staffed bed capacity is currently "inadequate".
The Royal Shrewsbury Hospital and the Princess Royal Hospital Telford will open extra wards.
A closure programme which has seen 82 beds go in 2011/2012 will be "reassessed" by the trust.
The two hospitals are due to close a total of 115 beds based on advice from two companies of external consultants.
A spokesman for the trust said: "Demand for our services naturally fluctuates throughout the year and we need to have plans in place where additional beds can be opened at times of high demand."
During the first half of 2012/13 emergency admissions have increased by 6% in comparison with the same period in the previous year, the trust heard at a meeting on Thursday night
The trust was told the current shortage is caused by an "excessive proportion" of patients staying longer than 10 days compared to most other hospitals.
The extra wards will open from the end of November until March.