Police commissioner election: Issues in Wem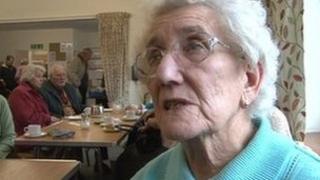 There are five police staff in Wem, a Shropshire market town with a population of about 5,500.
Two police officers and three police community support officers work from Edinburgh House, New Street, which is shared with Shropshire Council.
West Mercia Police said it closed its main station on Barnard Street in 2010 because it became old and inaccessible.
The new facility is seen as cost effective but there is some frustration locally that it is closed on weekday evenings and weekends.
At the Wem Senior Club, residents say they want a more visible policing presence.
"We've got a little joke, actually," said club member Dorothy Dunne.
"If we see a policeman, we say he's going to a fancy dress dance. There aren't any real ones around usually."
And there seems to be an apathy towards the forthcoming police and crime commissioner election.
Fellow club member Joyce Jones said: "The thing is, ordinary people, we don't really know about running the police.
"I think this voting business that we are going to have to do... quite honestly I think it's a waste of time.
"I think the police commissioners should be appointed by the police."
'More bobbies'
The successful candidate will oversee cuts of £30m from the force's budget over the next four years but they can be optimistic that the policing model in Wem and other rural towns appears to be effective.
It is a fact that crime is falling in Shropshire, Herefordshire and Worcestershire and Her Majesty's Inspectorate of Constabulary (HMIC) says the force is performing well.
Since November 2011, anti-social behaviour has accounted for more than half of all reported crimes in Wem, but crime levels are relatively low.
It is an issue firmly in the mindset of the three commissioner candidates.
Bill Longmore, standing as an independent, served with Staffordshire Police for 30 years.
Mr Longmore said: "I shall very actively try and get a very good committee to organise social and sporting events to raise money for the prevention of crime. It's important we engage with young people."
Labour candidate Dr Simon Murphy is a former West Midlands MEP and believes people want to see "more bobbies on the beat".
"They want to see more police officers and more community support officers," Dr Murphy said.
"That's a good start for combating crime."
Conservative candidate Adrian Blackshaw, a former army officer, county councillor and now commercial farmer, says people feel the impact of anti-social behaviour.
Mr Blackshaw said: "I think I'm encouraged by the phasing out of the ASBO and the introduction of the criminal behaviour order.
"It's the efficient use of community support officers, if need be the re-training of them, to look at what is a caustic area of crime."
The candidates for commissioner are canvassing hard, attending meetings with residents and businesses across the West Mercia force area.
But in Wem, they may just have found a microcosm of rural policing in a troubled economy.
They just have to convince people to come out and vote on Thursday 15 November.