Sandy: Storm delays Shropshire students by week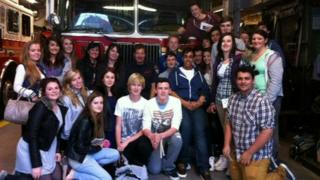 Some Shropshire students who were in New York when storm Sandy struck are expected to be delayed home by a week.
Pupils from Priory School, Shrewsbury, left for a week's trip on 26 October but cannot get a flight until at least 8 November, the school said.
The 23 students on a history and business trip were safe and would "make the most of the extra time they have been given in New York", it added.
And Idsall School pupils were not expected home until about 6 November.
Waiting for news
The 18 students and six staff from the Shifnal school are on a separate cultural visit to New York during the half-term break.
Meanwhile, a third Shropshire group of 47 pupils and eight staff from Lakelands School, in Ellesmere, was still waiting for news about when it could return, staff said.
The storm has killed at least 64 people in the north-eastern US, cut power from millions of homes and paralysed transport.
Students from all three schools were confined to their hotels when the storm hit the city and were following advice from the US authorities.
Shropshire County Council said parents from the schools were being given "regular updates" and were in mobile phone contact with their children.
Priory School said the students' hotel in midtown Manhattan still had power and it was in regular contact with the group.
Lakelands School said everyone was fine and the travel company it booked through was "working tirelessly to organise return flights" and it would tell parents specific details when they were known.
"It is promising to note though that flights into New York are recommencing," a statement said.