Shrewsbury remembrance park plans go on show to public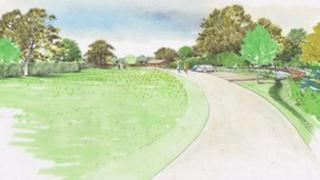 Plans for a £1.1m remembrance park in Shropshire have gone on show.
The park at Bowbrook, in Shrewsbury, will replace the existing Emstrey cemetery, in London Road, which is due to close to new burials in 2015.
The plans can be seen on the council's website or on display at both Shirehall and The Guildhall in Shrewsbury until 6 November.
Shropshire Council has asked members of the public to suggest names for the new park.
The authority said the site had been chosen because it was the right size, in a quiet area and would have good access from main roads.
A planning application for the park is due to be submitted in November and the council said it hoped planning permission would be granted early next year.
A spokesman said construction work was planned to begin in spring 2013, with the remembrance park scheduled to open in spring 2014.