Sandy: Shropshire pupils stranded in New York 'safe'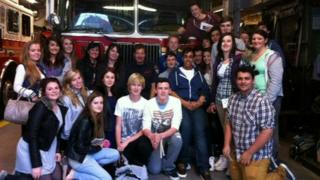 More than 80 pupils from Shropshire have been stranded in New York by storm Sandy which has battered the US East Coast.
The children and 17 staff from Lakelands School, Ellesmere, Idsall School, Shifnal, and Priory School, Shrewsbury, are in their hotels.
The storm has killed at least 16 people across several states, caused flooding and cut power to millions.
The 83 pupils are in telephone contact with their parents.
'Trapped in hotel'
Stuart Bingham, chairman of governors at Lakelands, said many pupils were able to use their own mobile phones to call home, while others were using those provided by staff.
"The kids are all in high spirits, I can't say they are actually enjoying it but they are continuing as normally as they can. But they are trapped in their hotel at the moment until the storm lifts.
"They are following all the advice from the New York authorities."
Staff and pupils had pizzas delivered to the hotel on Monday night and were playing board games.
Mr Bingham said the school was getting regular updates from staff on the trip.
The pupils from Lakelands and Idsall were on a cultural visit to New York and were due to return home on Wednesday, but their flight has been cancelled.
Meanwhile, 23 students from Priory School, a business and enterprise college, have booked two further nights at their hotel after their flight was also cancelled.
The school said the hotel was in the centre of New York so was not at risk of flooding.
Wendy Blower, a teacher at the school who is with the students in New York, said the weather had made things "a little bit scary".
"Watching the news on TV made it very nerve wracking but where we are in mid town Manhattan everything was quite calm," she added.
Goodwill messages
Head teacher Candy Garbett is waiting to hear when the pupils, aged 15 and 16, can return home.
"The group leader is sending out group emails to parents every three or four hours and we're putting updates on the school website," she said.
Ms Garbett said the school had kept parents well informed "from the start" to minimise concerns.
The students were on a business and history trip to New York, which Ms Garbett said the school began doing five years ago so pupils could visit attractions such as Wall Street.
Other pupils from the schools have tweeted goodwill messages to their friends.
Cecilia Motley, Shropshire Council cabinet member for education, said she knew it had been a "worrying time" for parents "who are seeing the images of destruction on the television news".
She added: "All the pupils are in good spirits and are being well looked after, and parents are being kept up-to-date by the schools regarding when their children will be flying home."