Karate boy Luke Johnson home in Shropshire after Serbia accident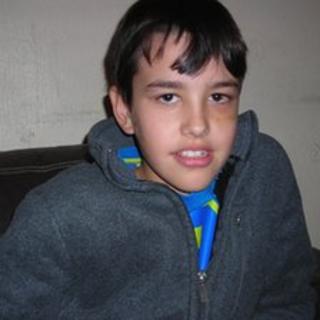 A Shropshire schoolboy who spent 10 days in a Serbian hospital after being hit by a car has returned home.
Luke Johnson, 13, was knocked down last month while attending the World Kenpo Karate Championships in Belgrade.
The teenager, from Whittington, cannot remember the accident, which was seen by his twin brother Aaron and friends.
Their mother Ruth said it had taken 16 hours to fly to his bedside where he was in intensive care with a fractured eye socket and damaged spleen.
"I got a call, I think it was about 5.30 in the evening, to say there had been an accident in Serbia," she said.
'Swollen up'
"Being so far away and not in the same country all I wanted to do is to get there."
She said doctors in Serbia had still been carrying out tests on Luke, so had not given her details of his injuries.
Mrs Johnson said she had been shocked when she had seen her son in the hospital bed.
"It wasn't my Luke," she said. "He'd got a big black eye and the left side of his face was swollen up."
Luke spent a short time at the Royal Shrewsbury Hospital after arriving from Belgrade and is now recovering at home.
His mother said he could only take "small steps" before becoming tired, adding his damaged spleen would hopefully recover.
Good wishes
Luke remembers crossing the road, but not being taken to hospital in Belgrade by ambulance.
"I got out the hotel and we went for some food and then after we were going to cross the road and two cars were stopped on the zebra crossing," he said.
"I walked in front of the two cars and then another car came and hit me."
He said he was upset he had missed the competition, but was pleased for Aaron, who only lost to the eventual world champion by a single point.
Mrs Johnson thanked everyone who had sent cards and good wishes to her son.