Neen Sollars flood-damaged bridge reopens to traffic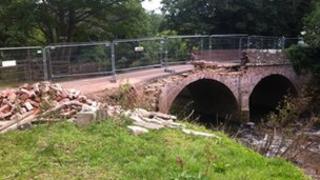 A bridge badly damaged by floods in July has been reopened to traffic following repair work.
The Grade-II listed Rea Bridge in the Shropshire village of Neen Sollars has been closed to traffic since 14 July, when part of the structure collapsed.
The damage was caused after flash flooding led to the River Rea level rising 20ft (6m) higher than normal.
Shropshire Council said the cost of repairing the bridge is estimated to be in the region of £75,000.
The work involved rebuilding the bridge walls and parapet, and repairing the road surface.
A number of people, including a couple in their 80s, had to be rescued from floodwater in the village.
The council said the bridge reopened to traffic at 17:00 BST on Friday.