Rainbow children's cancer unit in Shrewsbury facing closure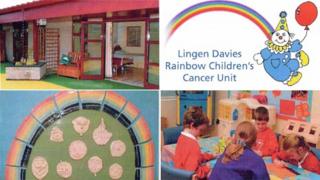 A hospital shake-up in Shropshire will see most paediatric and maternity services move from Shrewsbury to Telford.
But the move has caused much upset, particularly over the closure of a children's cancer unit paid for by residents' donations and fundraising.
Alison and Martyn Davies-Friend were bathing their nine-month old baby Grace in a bath full of bubbles when they discovered a lump in her side.
Mrs Davies-Friend said they assumed it was nothing serious, but she took Grace to their GP the next day to be sure.
"I'd literally got back home and there was a message on the answerphone to say 'a consultant will wait to see you at the hospital, can you get there straight away?'
"That's when all the alarm bells start ringing because you think - well you don't ever see the consultant on the same day you see your doctor."
That day in August 2000 was to transform the family's lives as baby Grace was diagnosed with having a cancer called neuroblastoma.
Despite surgery, the family received the devastating news three months later the cancer had spread from the baby's adrenal gland to her liver and some lymph nodes.
Grace was treated with high doses of chemotherapy as a "belt and braces job" was needed and then spent most of 11 months in hospital, her mother said.
At the time, children's cancer services were split between the Royal Shrewsbury Hospital (RSH) and Birmingham Children's Hospital. It meant the couple spent many nights in Birmingham away from their Shrewsbury home and four-year-old son Aaron, who was cared for by relatives.
'Holding up money'
At the RSH, children with cancer were treated in rooms off the children's ward, while their exhausted parents slept on fold-up camp beds at night, with nowhere to rest during the day.
Mrs Davies-Friend said Grace's illness placed an "enormous" strain on the family, which was heightened by the travelling and lack of facilities at Shrewsbury.
Medical staff and parents had begun talking about creating a dedicated children's cancer unit at the hospital.
And after Grace began the road to recovery, her parents became passionately involved in a campaign to create one.
"Martyn and I spent the best part of 18 months going around every community group you could possibly think of - WIs, scouts, cubs, guides - giving a speech and a Powerpoint presentation with the plans of the unit," Mrs Davies-Friend said.
She fronted the campaign with Wendy Hayeck, whose son had also been through treatment.
Fundraisers also approached the Lingen Davies Cancer Relief Fund, an established local charity.
The fund was set up in 1979 by then mayor Bernard Lingen who wanted to build a new radiotherapy department in Shrewsbury.
He was helped by accountant Frank Davies to launch the charity, originally called the Cobalt Unit Trust Fund.
Frank's widow Pat Davies said the mayor revealed the plan to crowds at his inaugural meeting at Shrewsbury Castle and before the end "people were holding up money to donate".
It led to a huge public campaign for the new unit serving patients in Shropshire and Mid Wales, with thousands of people from both areas taking part.
Mrs Davies said she had gone with her husband to collect money from parts of the county and Wales "I didn't know existed".
The campaign was backed by the Shropshire Star newspaper, which enclosed money bags in its pages for donations.
The unit was to include accommodation and facilities for relatives - which is still an important part of the charity's ethos.
"The whole idea was so that patients suffering from cancer could have their relatives close by them and wouldn't have to travel," Mrs Davies said.
Sadly, Mr Lingen died before the Cobalt Unit was built, so Mr Davies became chairman and spearheaded the fundraising, working with his secretary Margaret Cooper and volunteers.
Mrs Davies, 89, who was a nurse for more than 40 years, sold two books about her career as part of the fundraising efforts.
Her husband was made an MBE for his work towards creating the £1.4m unit which opened in 1982.
'Felt misled'
By the time the charity was approached about the children's unit, it had already raised millions for several projects.
The trust took on the Rainbow Unit project and, helped by hundreds of residents, £800,000 was raised in 18 months.
Mrs Davies said Frank was "overjoyed" when the unit opened in 2004.
Mrs Davies-Friend, who is no relation, said the aim was to create a "home from home" and the completed unit "was perfect".
As well as treatment rooms, it included a play area, kitchen and living room and en suite bedrooms, with an extra single bed for relatives, which all opened on to a garden.
Mrs Davies-Friend learnt about plans to move children's cancer care to Telford in 2010.
"I just felt utter disappointment and shock," she said. We kind of felt that we had misled the people we'd asked to fundraise for us."
Shrewsbury and Telford NHS Trust plans for the Rainbow Unit to become a clinical training centre for staff when it closes in 2014.
The trust is building a £28m women and children's unit at Telford's Princess Royal and says the reorganisation will improve patient care.
"The new children's cancer and haematology unit will be bigger than the existing unit in Shrewsbury and will offer additional facilities - for example it will have a new area for children receiving chemotherapy as day case patients," a spokesman said.