Cobra Seats workers affected by factory metal theft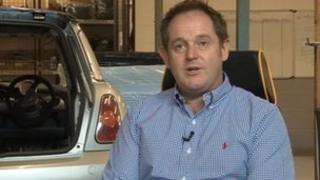 Staff at a Telford manufacturing firm have been told they face a reduction in hours until the new year following the theft of components from its factory.
Thieves stole about 4,000 metal items from Cobra Seats on Sunday.
The company's managing director, Mark Dunsford, said the steel was worth hundreds in scrap value but would cost them thousands.
He said: "[The thieves] have caused no end of trouble and potential difficulties... for 24 employees."
"Every bit of steel that could possibly have been stolen for scrap value has been taken and unfortunately they're very unique parts that were in temporary storage whilst we were having a refit," Mr Dunsford added.
"Like any business we're insured and items can be replaced but it's the time and the aggravation that it takes to do that.
'Four-day week'
"These components were sourced from Germany for a particular product that we make.
"That particular component is almost impossible to replace quickly. The typical lead time is three to four months.
"I won't get replacement goods until well into the new year.
"We may have to drop down to a four-day week because we won't have enough work with this one product line taken out of existence for the next three to four months."
West Mercia Police said it was investigating the theft as part of Operation Livewire.
A force spokesperson said they would liaise with local scrap dealers and asked for anyone with information to contact them.