New England's Donkey Bridge shut as floods leave it unsafe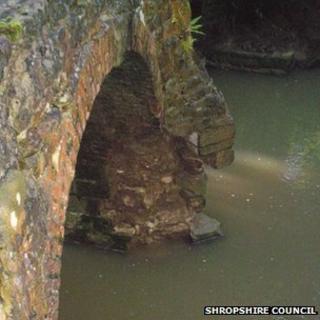 A historic bridge in Shropshire has been closed after flood damage made it unsafe.
Shropshire Council said the central pier of the Donkey Bridge in New England, near Highley, has been "badly damaged" by debris carried by flood water.
The two-arched stone and brick structure carries a public bridleway to the New England heritage site.
The council estimate the damage will take six months to repair.
Steve Charmley, from Shropshire Council, said: "I would urge people to keep off the structure for their own safety - rails have been put across the bridge to stop further use."
The council said the bridge's design and location make repair difficult, as does the extent of the damage.
The bridge gets its name from the fact that it was once part of a packhorse route.
New England was a small industrial community during the 19th Century and there is evidence continuous human activity and settlement in the area spanning at least a thousand years.
The council said access to the heritage site will still be possible from Highley.