Dairy farmers threaten more protests over milk prices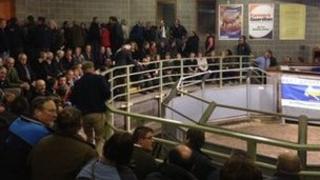 Dairy farmers in Shropshire say there will be further protests over the price of milk if the situation does not improve.
Nearly 2,000 farmers attended a meeting at the cattle market in Market Drayton on Thursday.
Farmers For Action (FFA) chairman David Handley said: "We're going to keep putting the pressure on."
Shropshire-based processor Muller UK has agreed to increase the price of milk to 29 pence per litre.
But the FFA group, which blockaded the Muller factory in Market Drayton in August, said it now costs up to 31 pence to produce each litre.
The group had given Muller UK, which also owns Robert Wiseman Dairies, until October to agree a new price deal.
The company said the price rise would come into force from 15 October.
Mr Handley said: "There were at least 1,800 people at the meeting and all hands went up when we asked farmers if they were prepared to protest again.
"If through negotiations we have not achieved a scenario where at least we know what the next move is going to be then we'll have no choice."
He added they would assess the situation at the end of October before deciding on further action.
As well as Muller, other leading companies, including Tesco and Dairy Crest, also announced an increase in the price they pay farmers for milk, taking it to about 29.5p per litre.
Farmer Paul Rowbottom, from the FFA, said "A lot of people are still four or five pence a litre adrift while we're waiting for the prices to come through.
"If a farmer is losing more than 4p a litre, on a 3,000 cow herd that's £4,500 a month that he's losing and you can't carry on like that.
"People are getting further and further into debt, it's desperation out there."
He added farmers were aiming for the 30 pence mark now.
'Not the answer'
Mr Rowbottom said: "With the cost of feed and everything where it's going, to be honest a true cost by January will probably be 33p, maybe 34p.
"As you go round these farmers have got no money, never mind to pay their feed bills, to just keep on top of the other bills."
Dairy UK, which represents the whole dairy supply chain including farmers and distributors, said it understood farmers' frustrations but that blockades and protests were not the answer.
Director general Jim Begg said: "It's been a tough summer, the input costs have been rising and the market has been fairly weak but it's not just for farmers, it's the whole industry.
"The markets have started to move and the milk prices are starting to reflect that which should be reassuring.
"Milk must be profitable at all levels across the supply chain. The key to the future is being able to control our costs not just at the farm level but across the industry and at the processing level too."