Old Shropshire fire engines head to Transylvania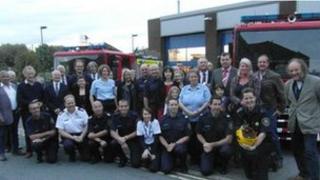 Ten Shropshire firefighters have set off on a 1,700-mile (2,735km) drive to take four old fire engines to Romania.
The engines, between 13 and 20 years old, will replace much older and "cumbersome" vehicles used by crews in Transylvania, the service said.
Hundreds of people from across the county held cake sales, collections, car washes and auctions to raise £11,000 to fund the scheme.
Three service support staff and a council worker also left on the trip.
The initiative has been arranged with the Mihai Eminescu Trust, a charity preserving Saxon villages in Romania, whose patron is Prince Charles.
Assistant chief fire officer Steve Worrall has organised the trip, as well as previous projects which have seen 11 old engines delivered to countries including Bulgaria and the Czech Republic over the past five years.
'Precious heritage'
The journey to Transylvania will take four days and pass through eight countries, with firefighters taking turns to drive the engines.
Mr Worrall said: "The fire engines in Transylvania are from the 1950s and 60s and can be too big to get around these villages.
"The ones we are taking are smaller and more nimble."
He said an important part of the project was taking equipment to the region and fitting fire alarms in homes in the mediaeval village of Viscri.
Mr Worrall said many homes there were quite isolated and this act would "save lives".
The 200 smoke alarms were donated by a manufacturer while the surplus fire equipment was given by brigades around the UK, he added.
Mr Worrall, a firefighter for 30 years, visited Viscri in May and said people were still using horse and carts to get around.
"It was an experience like nothing else. It was almost like being in a theme park it was so medieval," he said.
Colin Richards, historic buildings manager at Shropshire Council, is among those taking part in the project.
He will work with a team of craftsmen to restore medieval buildings in the region.
Mr Richards said: "The landscape is similar to Shropshire's a century ago. Taking fire and rescue equipment will conserve precious heritage and save lives."